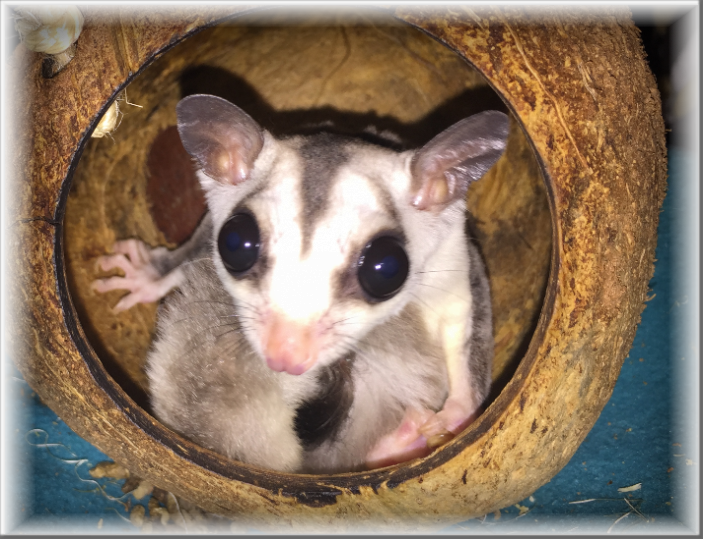 En tant qu'éleveur d'animaux de compagnie de poche depuis plus de 20 ans, nous avons décidé en 2012 de ramener à la maison une paire de phalanger volants.
Après un voyage de 16 heures sur la route
, Lilo et Stitch sont rentrés chez nous et seulement trois mois plus tard, en mars 2013, ils ont eu leur première joey.
Elle était une belle whiteface, nous l'avons appelée Galaxie. Ce fut le début d'un grand amour pour les phalanger et l'espoir que tous les phalanger volants auraient une maison merveilleuse et attentionnée.
En plus d'être un éleveur, nous sommes également là pour les phalanger ayant besoin de sauvetage ou d'une maison temporaire. Nous ne détournerons jamais un phalanger volants dans le besoin. Tous les phalanger sauvés sont conservés séparément et offerts à l'adoption des frais moins élevés pour couvrir les frais seulement.
Situés à Pointe-Claire, Québec, nous sommes fiers de dire que tous nos phalanger volants reproducteurs peuvent être retrouvés par leur lignée et sont enregistrés dans une base de données accessible au public sur www.thepetglider.com, dans leur programme Pedigree.
Nos phalanger ont une excellente lignée qui peut être retracée sur 5 générations. La consanguinité est toujours une car elle pourrait causer des défauts graves et des troubles génétiques qui peuvent entraîner des tumeurs, des déficiences immunitaires ou un certain nombre d'autres problèmes de santé, y compris la mort prématurée.
Les phalanger volants sont à haute maintenance et ont des besoins diététiques spéciaux. Leurs corps et leurs os sont très délicats et s'ils sont nourris avec un mauvais régime, ils pourraient nuire à leur santé.
CLARK breeders exigent que toute famille d'adoption potentielle soit consciente de leurs besoins, de la taille de la cage à leur connaissance des phalanger.
Notre site Web est plein d'informations à partir de quoi s'attendre lorsque vous apportez votre joey a sa nouvelle maison à quoi nourrir votre et comment socialiser. Nous sommes toujours prêts à répondre à vos questions 24 heures sur 24.
As a breeder of pocket pets for over 20 years, we decided in 2012 to bring home a pair of sugar gliders. After a 16 hour car ride, Lilo and Stitch came home with us and
just three months later
in March 2013, they had their first offspring. She was a beautiful whiteface, we named her Galaxie. That was the beginning of a great love for gliders and the hope that all gliders would have a wonderful and caring home.
As well as beeing a breeder, we are also there for gliders in need of rescue or a temporary home. We will never turn away a glider in need.
Any rescued gliders are kept seperate and offered for adoption at a lower charge to cover expenses only.
Located in Pointe Claire, Quebec, w
e are proud to say that all of our breeding gliders can be traced by their lineage and are registered in a data base accessible to the public at www.thepetglider.com, in their Pedigree Program.
Our gliders have excellent lineage that can be traced back over 5 generations. Inbreeding is always an issue as it could cause serious defects and genetic disorders which can result in tumors, immune deficiencies or any number of other health issues including premature death.
Sugar gliders are high maintenance and have special dietary needs. Their bodies and bones are very delicate and if fed the wrong diet, it could be detrimental to their health. CLARK breeders requires that any potential adoption family be aware of their needs, from cage size to their knowledge of gliders.
Our website is full of information starting from what to expect when you bring your new joey home to what to feed your joey and how to socialise. We are always ready to answer any questions 24 hours a day.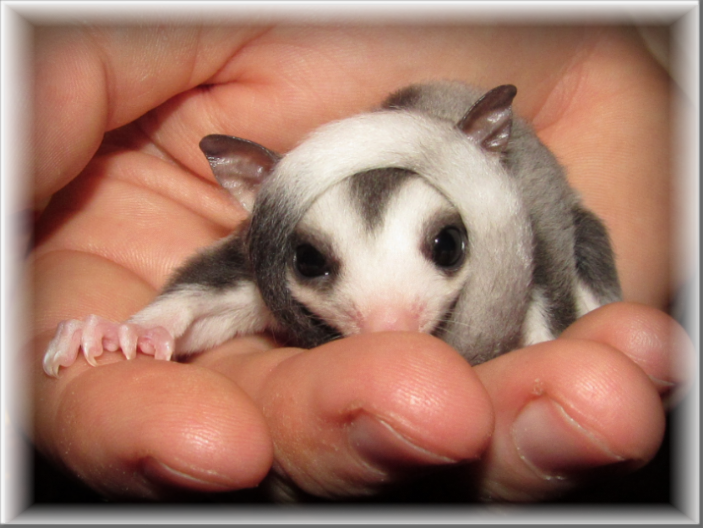 Contactez-nous par SMS au 514-928-0121 pour toute question 24/7 ou appelez entre 10h et 16h tous les jours.
Contact us by text at 514-928-0121 with any questions 24/7
or call between 10am - 4pm any day.