Housing/Logement
Information
A glider's cage is its safe haven. When they feel
scared or
uncomfortable, they always need a place to be to feel safe.
The bars of the cage should be no farther than 1/2" apart.
The cage should be no less than 2 feet x 2 feet x 3 feet tall. Slight variations are fine such as 3 feet x 1.5 feet x 3 feet tall, etc but tall is always better. Gliders like to be high above the floor of the cage. In the wild, they would be high up in the trees, away from any predators. Ideally the floor of the cage should have bars seperating the cage area from the litter area. A lot of glider owners use the "Critter Nation" cage as it is well built and large enough for several gliders to live comfortably.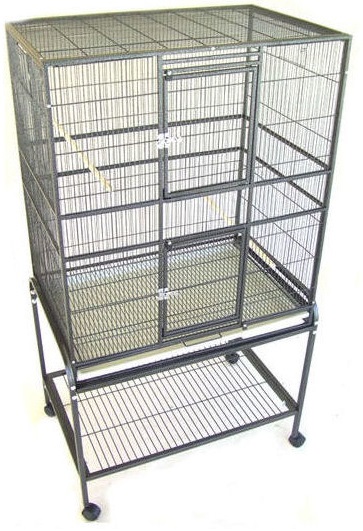 La cage d'un phalanger volants est son refuge. Quand ils se sentent effrayés ou mal à l'aise, ils ont toujours besoin d'un endroit pour se sentir en sécurité. Les barreaux de la cage ne devrait pas être plus de 1/2" à part. La cage ne doit pas mesurer moins de 2 pieds x 2 pieds x 3 pieds. Les variations sont fines comme 3 pieds x 1,5 pieds x 3 pieds de haut, etc, mais la hauteur est toujours mieux. Les planeurs aiment être élevés du sol de la cage. Dans la nature, ils seraient en haut dans les arbres, loin de tous les prédateurs. Idéalement, le plancher de la cage devrait avoir des barres séparant la zone de la cage de la zone de litière. Beaucoup de propriétaires de phalanger volants utilisent la cage "Critter Nation" car elle est bien construite et assez grande pour que plusieurs planeurs puissent vivre confortablement.
It's best to have a cage with a pullout tray with a wire grating in-between. This way, they don't have to walk in their own feces or urine. You can use newspaper, and you can also get an absorbent material like the pads that are used for protecting beds in hospitals. Some people use fleece. These pieces can be shaken out and washed once a week. You can also use commercial litter such as aspen shavings (hardwood). Do not use kitty litter, cedar shavings, pine shavings (soft woods) or anything with chemicals. Gliders can reach down into the tray and eat anything they can get their paws onto. "Yesterdays news" is also not recomended because it can resemble food.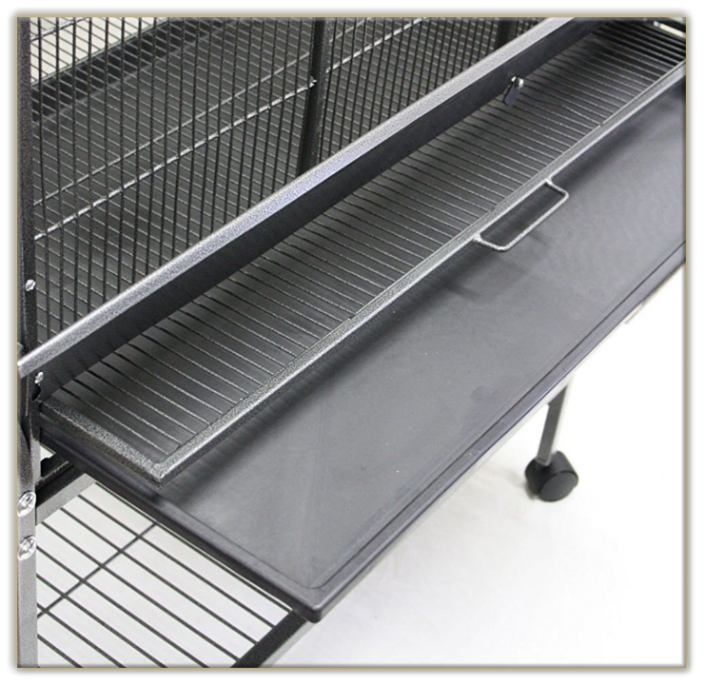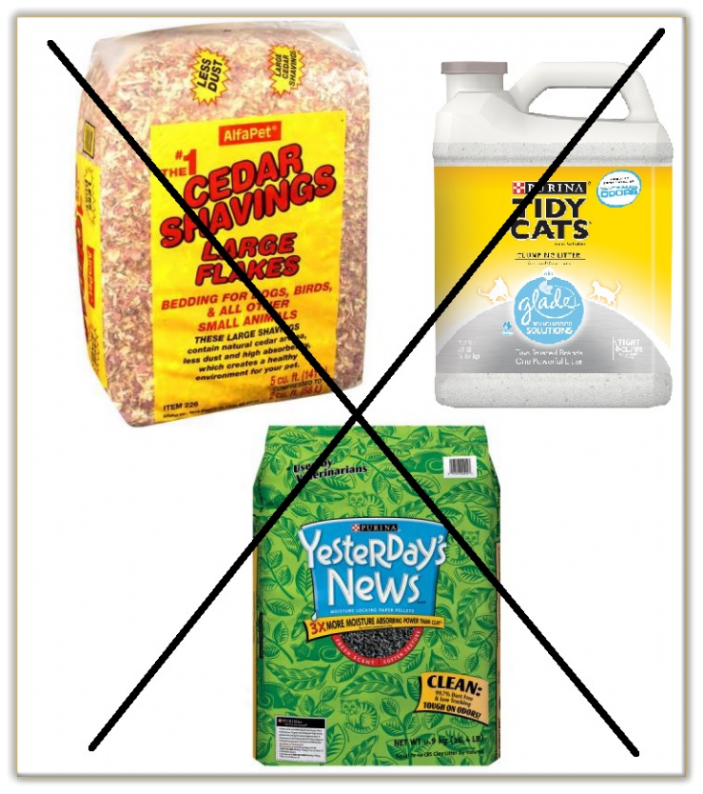 Il est préférable d'avoir une cage avec un plateau amovible avec un grillage entre les deux. De cette façon, ils n'ont pas à marcher dans leurs propres excréments ou urine. Vous pouvez utiliser du papier journal, et vous pouvez également obtenir un matériau absorbant comme les tampons qui sont utilisés pour protéger les lits dans les hôpitaux. Certaines personnes utilisent des toisons. Ces pièces peuvent être secouées et lavées une fois par semaine. Vous pouvez également utiliser des déchets commerciaux tels que les copeaux de tremble (aspen)(bois franc). Ne pas utiliser la litière pour chat, copeaux de cèdre, copeaux de pin (bois doux) ou quoi que ce soit avec des produits chimiques. Les phalanger volants peuvent atteindre le plateau et manger tout ce dont ils peuvent se servir. "Les nouvelles d'hier" ne sont pas recommandées car elles peuvent ressembler à de la nourriture.
You can get elaborate with the decoration and toys as well. They love climbing and there are a good many people out there who are in the glider community who make safe toys and pouches for gliders. Gliders love playing with the little pet balls too. Make sure there isn't anything on the toy that they can rip off and choke on, they are just like toddlers in this way. Also, make sure your toys have no sharp edges. I buy some of my toys at the dollar store in the dog toys section there. The pull ropes are great for hanging from the top of the cage as well as making a bridges across the cage. I buy the baby play rings to attach the toys to the cage or you can purchase plastic chain.
Always check your Gliders sleeping pouches or hammocks for loose threads, threads can come undone after washings and the gliders have been known to get caught in them and could chew parts of their tails or legs off to get away. Fleece and Cotton Flannel are safe and should be used for gliders to sleep in.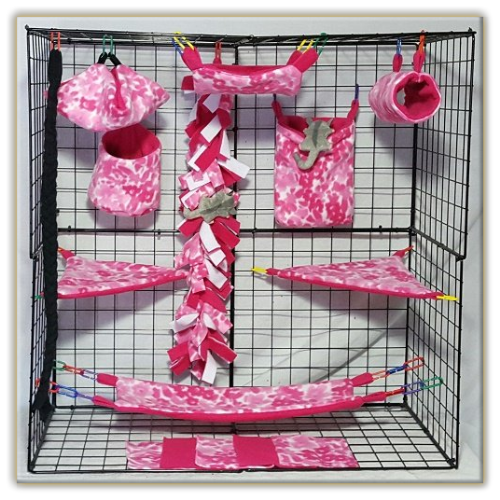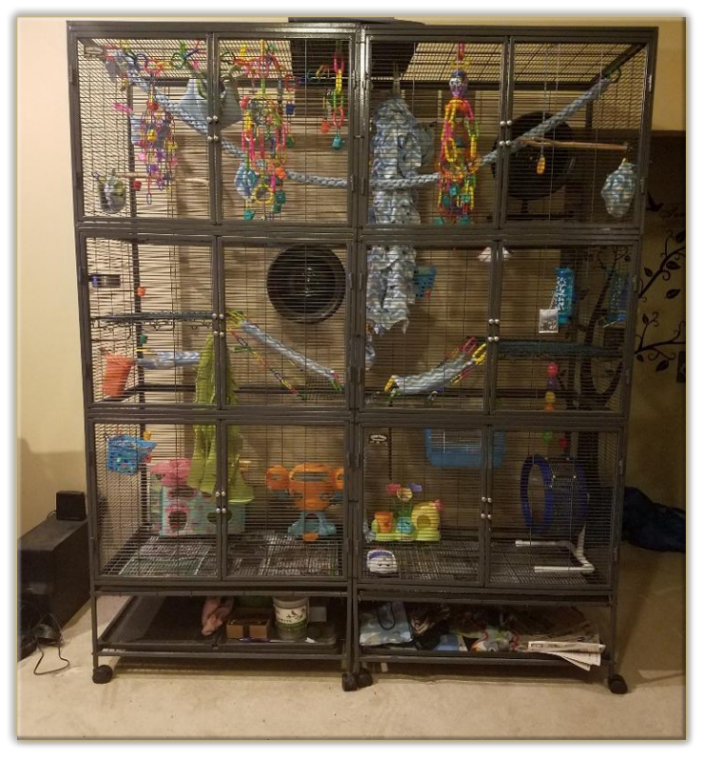 Vous pouvez aussi élaborer avec la décoration et les jouets. Ils aiment grimper et il y a beaucoup de gens qui font partie de la communauté des phalangers et qui fabriquent des jouets et des sacs sécuritaires.
Les phalangers aiment jouer avec les petites balles aussi. Assurez-vous qu'il n'y a rien sur le jouet qu'ils peuvent déchirer et étouffer, ils sont comme les tout-petits de cette façon.
Aussi, assurez-vous que vos jouets n'ont pas coins pointu. J'achète certains de mes jouets au magasin du dollar dans la section des jouets pour chiens.
Les cordes sont idéales pour accrocher au sommet de la cage ainsi que de faire des ponts à travers la cage.
J'achète les anneaux de jeu de bébé pour attacher les jouets à la cage ou vous pouvez acheter la chaîne en plastique.
Vérifiez toujours vos sacs de couchage ou hamacs pour les fils lâches, les fils peuvent se défaire après les lavages
et les phalangers ont été connus pour se faire attraper dedans et pourraient mâcher des parties de leurs queues ou leurs jambes pour s'en aller.
La polaire et la flanelle de coton sont sécuritaires et doivent être utilisées par les phalangers pour dormir.
Sugar gliders love to run and jump and just keep moving. No gliders home is complete without a running wheel. When gliders use the wheel, they tend to jump from one side to the other therefore they need a large wheel of at least 12 inches across. You need to be carefull when choosing a wheel because of several reasons. Your glider has a long tail which can get caught of there is a central shaft holding the wheel in place. When your glider runs, it will do it's business, so you want a wheel with a mesh running surface. Metal wheels are heavy (your glider weighs about 140g) so they are not recomended. There are glider safe wheels out there.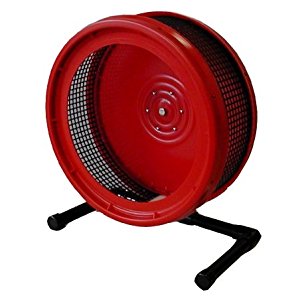 Les phalanger volants aiment courir et sauter et juste continuer à bouger. Aucune maison de phalangers n'est complète sans roue de course.
Lorsque les phalangers utilisent la roue, ils ont tendance à sauter d'un côté à l'autre donc ils ont besoin d'une grande roue d'au moins 12 pouces de diamètre.
Vous devez faire attention en choisissant une roue pour plusieurs raisons. Votre phalanger volants a une queue longue qui peut être prise d'un arbre central qui maintient la roue en place.
Lorsque votre planeur est en cours d'exécution, il va se
déféquer
, donc vous voulez une roue avec une surface de roulement de maille.
Les roues en métal sont lourdes (votre phalanger volants pèse environ 140g) donc elles ne sont pas recommandées. Il y a des roues sécuritaires pour les phalangers.
I am often asked at what temperature is good for gliders. Gliders should be kept no colder than 68F (20C). Gliders can take heat pretty well as they are tropical animals, but use your good judgment. My air conditioner is set to go on around 80-82F (28C) in the summer and they are fine with that. Be careful when traveling in the car in the warmer months.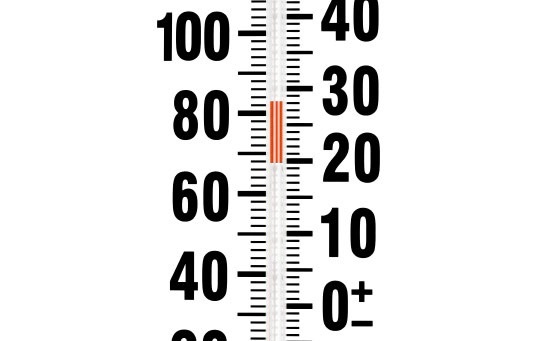 Parfois, on me demande à quelle température est bonne pour les planeurs. Les planeurs ne doivent pas être plus froids que 68F (20C).
Les phalangers peuvent prendre assez bien la chaleur car ce sont des animaux tropicaux, mais utilisez votre bon jugement. Mon climatiseur est prêt à fonctionner vers 80-82F (28C) en été et ils vont bien avec ça.
Soyez prudent lorsque vous voyagez dans la voiture dans les mois les plus chauds.
Contactez-nous par SMS au 514-928-0121 pour toute question 24/7 ou appelez entre 10h et 16h tous les jours.
Contact us by text at 514-928-0121 with any questions 24/7
or call between 10am - 4pm any day.